ABOUT THE CLUB
The Edmonton Bicycle and Touring Club (EBTC) is a volunteer run non-profit club with a mission to provide safe and fun recreational cycling and social activities for adults in the Edmonton area. Our club, one of the oldest in Canada, was incorporated in 1978.  More than 40 years later, we are still focused on four informal principles of: Food, Friendship, Fitness and Fun!
We offer 200+ rides annually, mainly in the Edmonton region. From spring to fall, we have Road Rides on every day of the week and plan some overnight trips. Our program also has warm season Trail Rides and non-technical Winter Trail Rides.
We have rides for cyclists of every skill and experience level, and welcome different types of bicycles, including 'pedal-assist' e-bikes. To help EBTC members select their rides, we designate each ride as Social or Training in focus, and Easier, Intermediate or Challenging in difficulty.
To find out more about EBTC's rides, you can peruse our lists of Unique Rides (once-a-season) and Series Rides (weekly, held on the same day). You'll see fun rides from different locations around Edmonton (east, west, north, south), great destination rides such as Elk Island Park and the C&E Trail out of Lacombe, and training rides to build stamina for longer distances and tougher terrain.
The EBTC Rides & Events Calendar also shows the club's planned social events, workshops, etc.
Our Newsletters and Facebook page are also great resources to see what is currently happening at EBTC.
MEET OUR BOARD OF DIRECTORS
The EBTC executive consists of member volunteers with varying responsibilities. The executive meets once a month to deal with club business. If you have a concern that you feel the executive should look into, please contact us.
JUNE MACGREGOR
President
After joining EBTC in the early 1980's, I was an active member for many years, participating in and organizing weekend and day tours. It was the Club's friendliness, including members who stuck with me as a struggling new rider, that kept me coming back.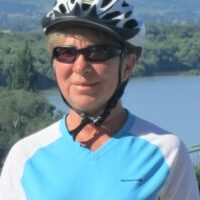 BETTY LAFAVE
Secretary
Although I have cycled all my life, I never really got hooked on road biking until 5 years ago when I did a cycling trip from Prague to Budapest with a group of friends. Wow! Who knew cycling could be such a great way to explore the world? Since then cycling has become my favorite warm weather activity.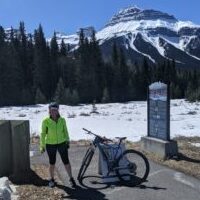 SANDY MCDONALD
Treasurer
I have been an EBTC member since 2015. I started after my husband joined. He started doing the Wednesday Show n' Go rides. I then joined him on those rides. At first, I rode a heavy hybrid bike; it was at the start of my second year that I bought a road bike. Since then, I have not stopped cycling (road, mountain, winter fat bike) or buying bikes (I am a proponent of N+1).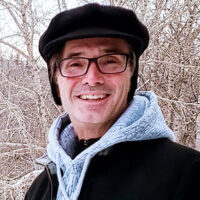 JOHN SHAW
Newsletter Coordinator
I saved up birthday and holiday money for my first 10 speed and bought it the summer of 1971. I got a staff discount at Handy Andy in Montreal through my friend Nicolas' dad. That summer we rode out to St. Anne de Bellevue, and Ile Perrot and beyond from Pointe Claire – a pair of 12 year olds, no maps and no cell phones. Freedom. Independence, seeing the world – I was hooked!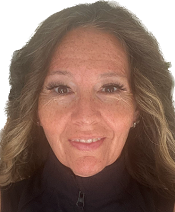 DONNA MCKAY
Special Volunteer. Social Coordinator
I cycled crazy distances through my teens and have competed in a few triathlons. I first joined EBTC in 2014 and sat on the board as the Social Coordinator for a couple of years. I enjoy cycling and the amazing members!  I, like everyone else, am hooked!
LARRY ZELAZO
Membership Coordinator
I joined EBTC in 1982 to participate in day and weekend touring bike trips organized by the club.  I stayed with the club to enjoy the friendships I made through the club.  My favorite experiences with the club has been the longer trips in such destinations such as the Gulf Islands, Silver Triangle and Jasper – Banff.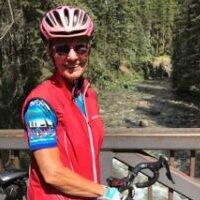 ANNE-MARIE ADACHI
Past President
I have been passionate about cycling for over 40 years! I have been a member of EBTC for 17 years,and an executive member for 13 of them, I love cycling and meeting new EBTC members, some of whom have become lifelong friends.
PHIL DAVIDSON
Webmaster
For years I used my cheapo bike with nary a hint of trouble. Then around 2010, I started dropping in on Al Carlson's Show-and-Go. Probably like many of you, I was in denial; I told myself I could quit any time. By the time I admitted I was hooked, I'd dragged a bike bag through an airport or three.
SONJA TAYLOR
Special Volunteer, Social Media
Joining EBTC in 2009 to learn how to cycle longer distances for an upcoming charity ride, little did I know where it would lead! I have thoroughly enjoyed many club rides and social events, making new friends. I have participated in multiple charity cycling events and explored over 20 countries by bike.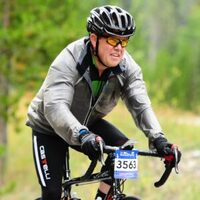 SCOTT KEAST
Special Volunteer, Safety & Education
My cycling life first began at age 5 (circa 1965) or there abouts. My Mom did hundreds of laps around a courtyard, her with a firm grip on my saddle and me performing huge corrections with my handlebars. Eventually I developed my balance and more than 5 decades later I am still doing circles . . . they're just bigger now.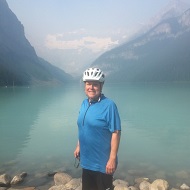 MICHEL LAMONTAGNE
Special Volunteer, Equipment
I've been bicycling on & off my whole life. Commuting, touring, mountain bike, fat biking. I started winter/snow riding in 1973, the only winter rider in my town.  I'm not a fast or a technical rider by any means but I sure like riding.
AUDREY SONNENBERG
Special Volunteer, Ride Coordinator
Although a 10-speed was my primary mode of transportation around Edmonton from age 16, it wasn't until I joined EBTC 6 years ago that I discovered the river valley and surrounding countryside with the help of the Club's tireless volunteers. I look forward to supporting ride leaders who share their passion for riding, socializing, and training with new and returning members.
The Mission of the EBTC is to provide safe and fun recreational cycling and social activities for adult members in the Edmonton area.